You can add contacts straight into HubSpot, right from Cradle!
Adding Contacts to HubSpot
If you receive a call from an unknown phone number you can easily add them to HubSpot, both during the call or after the call has ended from the call log. To add a contact, you'll need to have either their name or email address. If you provide an email address, we check for any existing contact records to make sure that we're not making a mess in HubSpot.
Adding Unknown Contacts During A Call
Click on the phone number

Enter their first and last name

Enter their email address

Press enter to create or update their records in HubSpot
Note: If you are unable to obtain all of their details at a minimum a single name OR email address is required.

Adding Unknown Contacts After a Call
After a call has finished, you can still add the contact to HubSpot by expanding the call record and clicking Add [phone number] to your HubSpot contacts.
Click on the phone call in your call log to expand the call, then add the contact details.

Adding G-Suite/Outlook Contacts to HubSpot
If the contact is in your G-Suite or Outlook contacts, you can add that contact to HubSpot by expanding the call log after the call.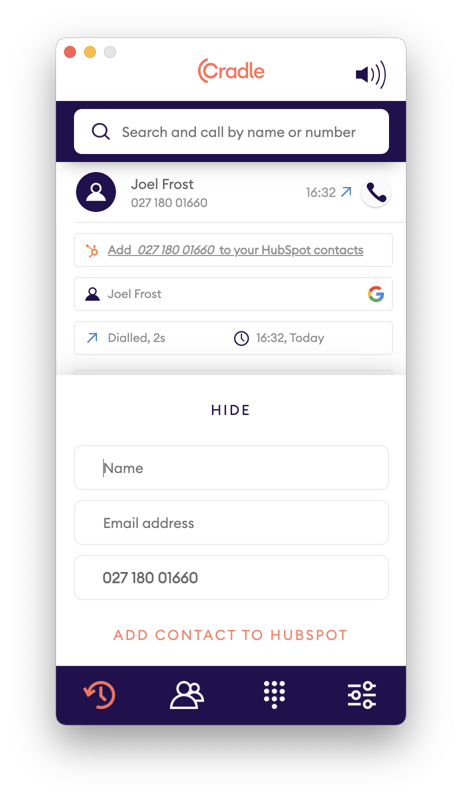 When you add the contact (during or after the call) we will save the call as an engagement on the timeline of the contact you have created. That way you still have a full picture of the contact. We also set some properties on the contact so that you can track where this contact came from in the future.
When won't this work?
If there is already a Contact or Company with that phone number we won't add a new contact. This can happen if someone else on your team has added the contact since your contacts last synchronised or the caller added their details to HubSpot via a form. We then update the call record so that the contact shows up.
If all phone number fields are full for a contact we will not be able to add any additional phone numbers for that contact, if this occurs we will let you know at the time.
If the internet has had a moment and something didn't work. We'll let the user know that this has happened. In this instance you can normally try again shortly and it will work.
Tips
Prevent Duplicates
If you add a contact via the desktop app without an email address we recommend opening the contact in HubSpot (by clicking on the contact's name) and checking for duplicates in HubSpot. If there are duplicates, merge!
Create Active Lists
You can set up an active list of contacts to see which ones have been created in Cradle. To do this, set up a list for any contacts where Original source drill down 2 has ever been 177270. This property is set by HubSpot and can't be changed.
You can further refine these lists by filtering on the User that created this contact
from within Cradle field in HubSpot. This field contains the email address of the
Cradle user that created a contact.
Add Email To Your Contacts
If possible, we recommend capturing email when you're adding contacts to HubSpot. This will help keep your data clean, as HubSpot does not allow duplicates of an email address.
Help Your Teammates Out
Adding a contact at the start of a phone call (when introducing the company and understanding the caller's question) allows enough time for the contact to be created in the system so that if the call is then transferred to someone else in your company, the caller's name will be presented instead of a phone number. A great way to give your callers and your teammates a delightful experience.