If you need to keep an eye on which customers you've not spoken to recently, perhaps you should set up this report
With Cradle connected to HubSpot, all of your calls are logged against either the contact or the company that you call. The great news is that this gives you the ability to report on who on your customer and prospect list you haven't called recently.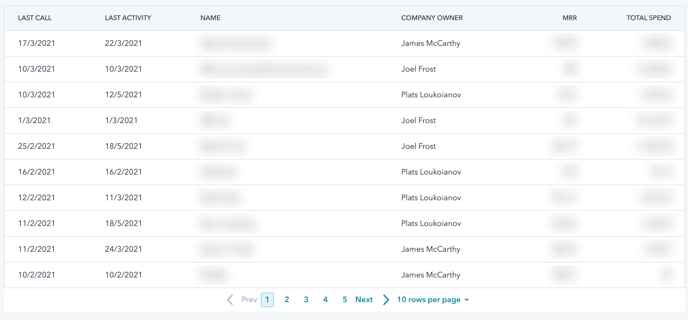 This is a report that shows the paying customers that we haven't spoken on the phone with in the last 60 days, also listing out the contact owner, the MRR (revenue per month) for that customer, and their total spend.
When we're doing key account check-in work, we can quickly verify that we've been in contact with our customers regularly enough.
---
How do you set it up?
We recommend running this report against the company object, as all engagements (activities that sit on the timeline for a contact or a company, such as calls, notes and meetings) roll up to the company using HubSpot's Automatic activity association.
Go to your Reports List, and click Create Custom Report
Click on Custom Report Builder, and choose Companies as the primary data source, then click Next.

Choose the table report type:

Add the following properties to the list of possible columns:

Last Logged Call Date (daily, no aggregation)
Name
Company Owner
Last Activity (Optional) (daily, no aggregation)
Other properties (Optional)

Select Filters, and add the following filter (you may want to put a different date range in)



Note: we include another filter in our report based on a custom property that only includes our customers. You may have a similar property to include, or you may use Lifecycle Stage.

Style the report (by setting sort by and other options) and then click Save.