Want to know how to get your team set up and running with Cradle?
Enabling Users
When you first sign into Cradle we will get a list of your company's users from either G Suite or Office 365 if you're using these platforms.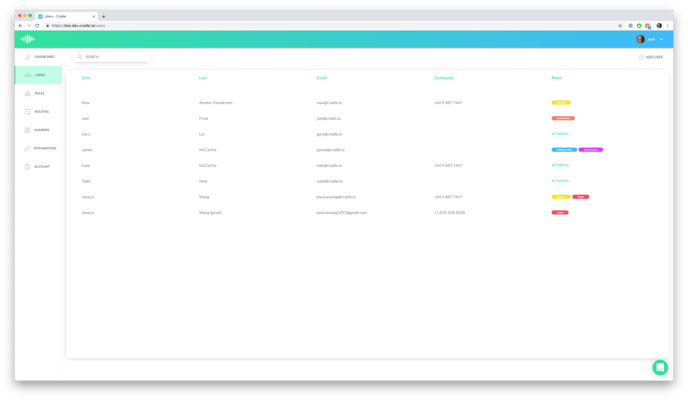 Your team will all show up on the Users page.
For any people you want to have use of Cradle, click Activate.
They will be sent an invitation with instructions on how to get set up themselves.
Make and Remove Admin
Admins are able to log into the web app which allows them to set up the phone system, choose phone numbers, add and remove users and change other settings. If you want others to tinker with the phone system settings make them an admin. Click on the user and slide Admin to Yes.
If you want to prevent users from making changes to the settings, make sure they're not an admin.
Note, all active team members will be considered users with regards to your pricing plan, including yourself as an admin.
Disabling Users
If you want to stop a user from making or receiving calls click on the user and click Disable User.
Not G Suite or Office 365?
If you don't use G Suite or Office 365, you will need to add your users manually by clicking Add User in the top right, and then typing in their email address.