How can people leave voicemail?
There are many times when humans will call you, and unfortunately they won't get the right person, but when can this happen and how do you set up Voicemail for these instances?
Incoming Calls During Hours
Incoming calls during hours are usually routed to a Group in Cradle. These Groups have a selection of people in them and if they don't answer it goes to Voicemail. To set up this Voicemail message, see these instructions.
Incoming Calls Out of Hours
Outside your business hours, you can send calls directly to Voicemail. This is done on the Rules page, and you can see how to get this set up here.
Team Calls
When you call your teammates using Cradle, they will have 25 seconds to pick up after which Nicole the British Robot will read out the person's name, take your message, and email it to your teammate. There is nothing to set up here! It's automatically included for your whole team.
Transferred Calls
Blind Transfers
Any call that is blind transferred and goes unanswered will be answered by Nicole the British Robot (to customise this message, see below). She will let your caller know who they've been put through to and then ask them to leave a message. If a message is left, she will email it to the person to whom you were transferring the call.
Warm Transfers
If you're attempting a warm call transfer, but the person doesn't answer or is unavailable and the call can't be connected, you will be greeted (once again) by Nicole the British Robot.
You can choose to leave a message for the person you were transferring the call to, such as Hi Sam, I've got Andy on the line for you about the meeting next week.
​
​If you don't want to leave a message, just click Back to Call before Nicole finishes her message.
​
​If you would like the put the caller through to leave a message, we would suggest clicking Back to Call and letting your caller know, and then blind transferring them so that they can hear the entire message from Nicole. (See Blind Transfers above).
If you're attempting a warm transfer, you will no longer be automatically reconnected to the caller if the person to whom you're transferring the call is unavailable. You will reach their voicemail instead.
Changing Personal Voicemail
To change your personal voicemail, simply call yourself from the team page on Cradle desktop. You will be played your current message. Stay on the line to record a new personal voicemail message. Once you have recorded your message, hang up to save it.
This personal message will be played for the following calls:
Team calls
Blind transfers
To your teammates on warm transfers
User DDI calls
Listening to Voicemail
Voicemail is always delivered as an email. This email will include an MP3 of the voicemail, a link to listen in your web browser, a transcription of the voicemail (beta customers only) and contact matches that we have for the number (Integration customers only).
You can also listen to the voicemail in Cradle for your computer. You just need to click on the call that you missed and then hit the play button! You can also download it for record keeping if need be.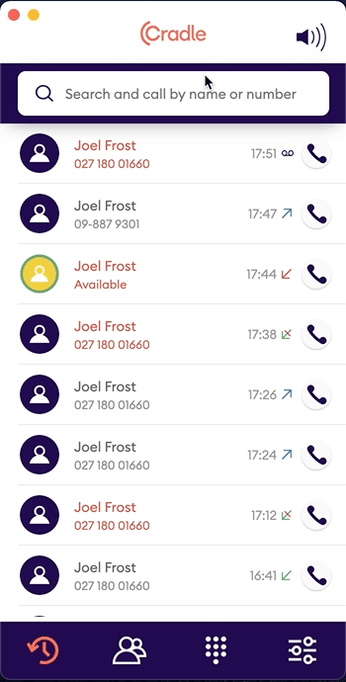 FAQs
What email address does voicemail come from?
All voicemail is delivered from voicemail@cradle.io. Please whitelist this email address on your email servers.
Can you deliver Group and Out of Hours voicemail to a different email address, such as a group email?
Yes, this can be done via the Group Settings.