With the ability to record calls with Cradle, there comes a few things you need to know around regulations and best practices
Why record your calls?
Help your team reflect on their conversations so that they can improve how they communicate
Help new team members get the voice of your company
Ensure you're keeping accurate records of what's been said to customers
What can you do with Cradle?
You can selectively record calls (using the manual Record button on the Cradle desktop and iOS apps) or choose to record all (inbound) calls if you're meeting your country's legal requirements for call recording.
You can also set a user up to have all their outbound calls recorded.
Where are recordings accessed?
Recordings are accessible in your Cradle call log in Desktop and iOS apps. You can click the button on the far right (three vertical dots) to download the recording to your device.
For those using our HubSpot integration you'll find the recordings are kept against the contact record.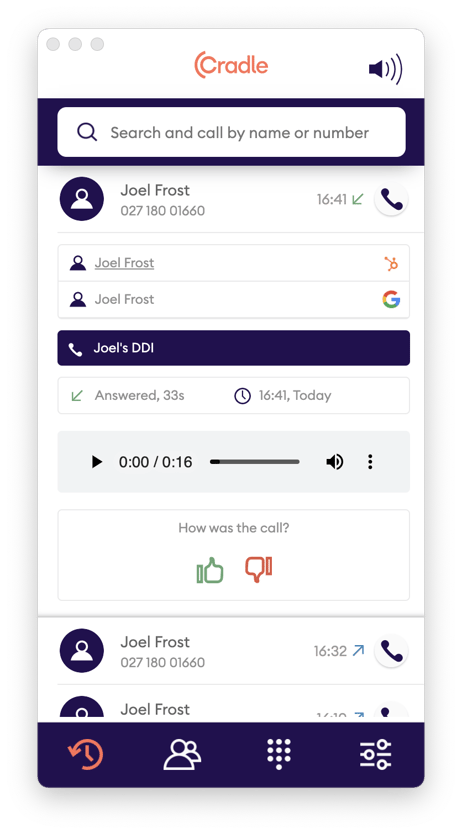 How long are recordings kept?
Recordings are kept for 28 days (on your call log) and can be listened to within HubSpot for that same time period. If you want to keep the recordings for longer, you will need to download and archive them yourself.
If you cancel your subscription with Cradle your recordings will be deleted immediately.
Any call recordings that are made on a trial with Cradle will be deleted when the trial ends unless you start a subscription with Cradle.
Cradle Ltd accepts no liability for the legal implications of recording calls. 

It's your responsibility to comply with all applicable laws. 
How much does recording cost?
This depends on your plan.
Pricing is per minute and part thereof.
Call recording is in addition to standard call charges, if any; for example calls in addition to fair use and outside our 20 unlimited destinations. Charging applies to inbound calls as well as outbound calls.
Legal Considerations
If you choose to record your calls with Cradle you are responsible for complying with the relevant laws and and regulations in for all areas from which you make or receive phone calls. We're providing some general information on the laws and regulations that relate to call recordings in New Zealand, as well as some best practices to consider when recording calls through Cradle.
Note: This is NOT legal advice. Cradle recommends that you speak with your legal counsel to make sure that you're complying with the appropriate laws and regulations when it comes to call recording. Seriously - call your solicitor before you record phone calls.
Laws specific to recording calls in New Zealand
In New Zealand, according to the Citizens Advice Bureau, you can record a conversation that you are party to without the other party being aware that the call is being recorded. However the Privacy Act requires that you have a clear reason for why and how you are using the recordings so it's important for you to ensure that you are in compliance.
In addition to legal requirements regarding consent, there may also be laws governing how you use, disclose and secure your call recordings depending not only on where your participants are located, but also on business sector specific laws or industry standards. Determining which laws apply to recording a call can be complicated when participants are in multiple states or countries, or if you cannot be sure about the location of one or more call participants. For these reasons, it is important to familiarise yourself with the laws and standards that will apply to your specific call recording use case to make sure that you record calls in a legally compliant manner.

[https://support.twilio.com/hc/en-us/articles/360011522553-Legal-Considerations-with-Recording-Voice-and-Video-Communications]
Best practices for recording calls in New Zealand
It's common for businesses to record calls with their customers, so when speaking with your customers they may already expect the call to be recorded. We recommend you inform your callers that you may record calls.
As not all calls are recorded by default through Cradle, and you need to turn the recording on/off, that's the perfect time to tell the person that you're speaking with that you'll now be recording. It also may help to let them know when you're recording it.
Your specific circumstance may differ, so it's always best to check with your solicitor to ensure that you're in the clear.
Ready to start recording calls? Check out our article on call recording control!